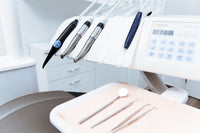 Remember to be amalgam separator compliant by July 20th 2020.
Dentists are encouraged to follow dental best management practices for amalgam waste handling and disposal. The EPA requires amalgam separators to achieve at least a 95% removal efficiency. The EPA final rule on amalgam separators is effective as of July 14, 2017, and the date for compliance is July 14, 2020.
Prime Dental
Our mission is to provide high quality products for the dental profession. We provide the highest quality dental materials, custom packaging and delivery operations, and excellent after-sales service and delivery.