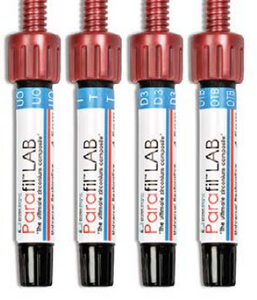 Parafil LAB is a light cured indirect Restoration system for crown and bridges, inlays, onlays, and veneers. It has unsurpassed durability, natural opalescence and excellent life like esthetics.

The unique chemistry of Parafil LAB Couples nano-partical/ZIRCONIUM Filler with urethane dimethacrylate matrix to product a superior composite with unsurpassed high strength, wear resistance and superior/polishiability.
Advantages:
Efficient polishing
Convenient polishing properties.
Does not require an oven unit for a final cure.
Parafil LAB offers outstanding esthetics - true to life color and translucency for beautiful, natural looking restorations.
Level of translucency and light transmission similar to natural dentition. Parafil LAB restorations are bright, opalescent and have a warm looking appearance.
Less shrinking and builds up like porcelain & ceramic.
Quicker fabrication compared to porcelain & ceramic.
Unsurpassed strength.
Incrementally light-cures with any LED light, once again no oven curing unit needed for final cure.
Parafil LAB restorations can be permanently cemented with Prime-Dent Automix Dual Cure Composite Luting Cement.