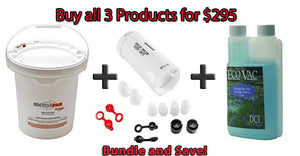 The Simple One® is the most cost effective & easy to use chair side amalgam separator! This amalgam separator will save money on competitors replacement filters & Maintenance throughout!
Corrugated Tubing not included, sold separately by the foot.

 Note: To achieve longest life
 Use liquid, non-foaming cleaners
Do not install with 90° angles
Use 1/2 gallon of water or less when flushing lines
  Additional Resources
VIDEO: How to Install Your SimpleOne Chairside Amalgam Separator
Informational Brochure: The SimpleOne®
Full Instructions: DD2011 Chairside Amalgam Separator Instruction
The Recycling Kit is designed for the shipment of your amalgam waste. It includes a pre-paid shipping label all the necessary documentation for your entire recycling process. This will also house 6 Simple One Chair Side Amalgam Separators.

Vacuum System Cleaner Eco Vac 1 Pint Bottle 
(recommend solution for the simple one amalgam separator)
Continuous cleaning action
Environmentally safe
Contains no hazardous materials
Non-corrosive liquid; safe to handle & store
Easy to use, measured 1 pint dispenser holds 32 applications
Non-Toxic, non-pathogenic
Eco Vac cleans vacuum systems and eliminates odors associated with organic waste by biologically degrading the waste into natural elements. Cleans and deodorizes without foaming or use of harsh chemicals. Eco Vac utilizes safe non-pathogenic, non-opportunistic, Class 1 bacteria.
One half ounce of Eco Vac mixed with one quart of warm water, drawn through the vacuum lines daily in each operatory, establishes a continuous biological action.