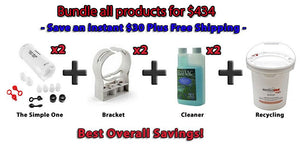 The Simple One® is the most cost effective & easy to use chair side amalgam separator! This amalgam separator will save money on competitors replacement filters & Maintenance throughout!
ADVANTAGES:
- ISO certified 11143 at 96.8%.
- Clinical testing at 99%.
- 9-12 month separator life, we ask that you change them at 1 year regardless.
- 100% self-contained separator.
- Chair side installation and hygienic replacement.
- Quick installation and easy to maintain.
- Reduces waste sludge in main vacuum lines and pipe build up which leads to reduced flow and costly repairs.
- Prolongs the life of your facilities vacuum system.
Note: To achieve longest life
 Use liquid, non-foaming cleaners
Do not install with 90° angles
Use 1/2 gallon of water or less when flushing lines
 Additional Resources
VIDEO: How to Install Your SimpleOne Chairside Amalgam Separator
Informational Brochure: The SimpleOne®
Full Instructions: DD2011 Chairside Amalgam Separator Instruction
Separator Mounting Bracket
This sleek mounting bracket allows you to mount the DD2011 chairside amalgam separator. Its simple clamp system makes changing out the separator a breeze. It comes with two screws, washers, self-tapping mollies, and two velcro strips for easy mounting applications.
DCI Vacuum System Cleaner Eco Vac 1 Pint Bottle
Continuous cleaning action
Environmentally safe
Contains no hazardous materials
Non-corrosive liquid; safe to handle & store
Easy to use, measured 1 pint dispenser holds 32 applications
Non-Toxic, non-pathogenic
5 Gallon Waste Recycling Kit

The Recycling Kit is designed for the shipment of your amalgam waste. It includes a pre-paid shipping label all the necessary documentation for your entire recycling process. This will also house 6 Simple One Chair Side Amalgam Separators.

- UN tested and DOT approved 5 gallon kit.
- Designed for the shipment of 5 chair side amalgam separators.
- External dimensions: 11.97" x 10.44".
- Includes container, liner, instructions, generator certification form, prepaid return shipping, recycling and documentation.
- Lead foils accepted.